| | |
| --- | --- |
| | |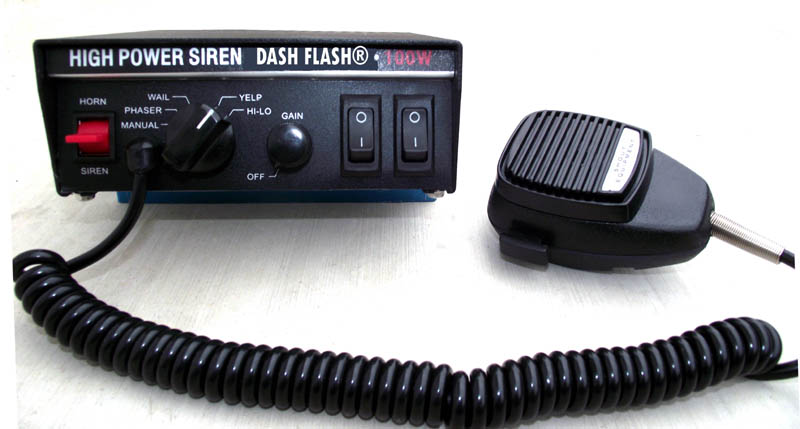 Dash-Flash® High Power 100-Watt Siren
DASH-FLASH® HIGH POWER 100-WATT SIREN
Super Loud, Street clearing Tones with Public Address

NOW with dual rocker switches for operating dash and grille lights!
FEATURES:
Four selectable tones: Phaser, Wail, Yelp, Hi-Lo (and Manual)
Built-in noise-cancelling microphone with siren override
Air Horn feature
Adjustable P.A. volume
Two rocker switches for powering LED dash and grille lights
Illuminated non-glare control panel
Easily accessible fuse protection
Dimensions: 6" wide x 2 1/2" high x 7 1/2" deep
INCLUDES: Mounting bracket, wiring harness, and microphone bracket
Compare to Federal Signal PA300 at $350



HEAR A SAMPLE OF THE SIREN SOUNDS
(NOT VOLUME, JUST THE SOUNDS)
Use your 'back' button after sound plays:
WAIL
YELP
HI-LO
PHASER
AIR HORN

Buy Now for only $119.99!
Please add $19.99 for shipping, handling & insurance for the first Dash-Flash® High Power 100-Watt Siren ordered
(Continental U.S. Only. Canadian Customers Will Be Billed an Additional $12.00 for International Shipping)
To ensure your siren arrives undamaged, insurance is included.
For shipping discount on quantity orders, e-mail us with the quantity desired and the destination zipcode.
TO BUY, CLICK HERE: