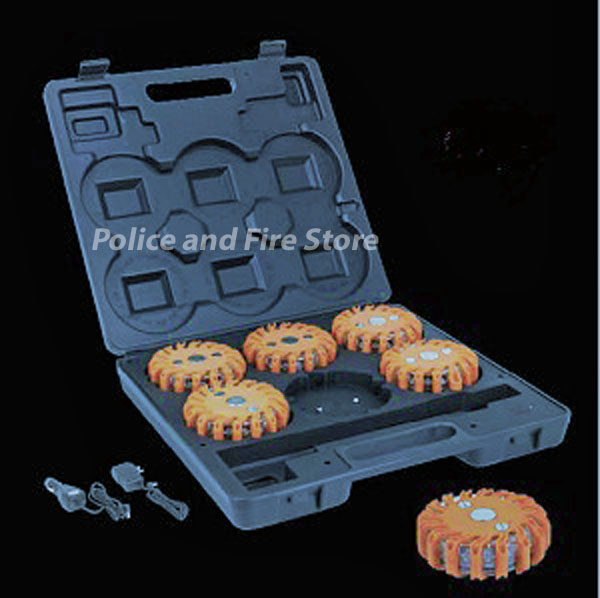 DASH-FLASH® LED RECHARGEABLE ROAD FLARE KIT FOR POLICE / FIREFIGHTERS / SECURITY / COMMERCIAL VEHICLES / ETC

The Dash-Flash® LED Rechargeable Road Flare Kit replaces hazardous and expensive road flares (fusees).
FEATURES:
Replacement for dangerous and expensive flares (fusees)
Amber Housing with 16 Super-bright red LEDs rated at 50,000 hours
Six flares in convenient carrying/charging case (All Units charge together in case)
Rechargeable over and over.
Includes auto and wall charging cords.
Super strong....designed to survive being run over by most vehicles
Waterproof - unaffected by rain
Magnetic base allows unit to be attached to a vehicle, a light pole, etc.
Nine Selectable flash patterns
Tested visible to 1000 feet in daylight and 1/2 mile at night, 10-miles over water.
Dimensions: 4.25" Diameter x 1.5" high


FLASH PATTERNS:

1. 360 degree Rotator
2. All Flashing
3. Slow Flashing
4. Wig-Wag
5. Three Fast Flashes, Three Slow Flashes (SoS)
6. All On
7. All On Low (saves power)
8. Two Fixed LEDs
9. Four Fixed LEDS.
10. Off





"If you're like me, you hate the part of accident and fire scenes where you have to keep tending traditional road flares. They last for only 30-minutes and, even when you 'pyramid' them, they keep going out. Plus, they're a fire hazard and they're expensive (I've used a whole case on one scene). But now there's a solution with the Dash Flash® LED Road Flare Kit! Just turn them on and lay them out. They'll stay lit for hours and, when you're finished, plug in the case to recharge all six LED flares at once. They'll pay for themselves after only a few uses" - Officer Ed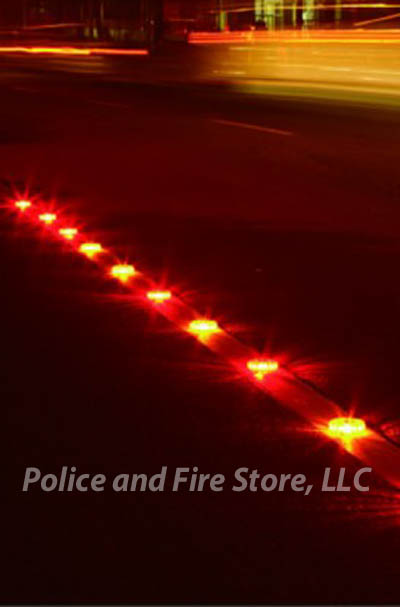 Check other sites and compare at more than $300.00
( Click to see example)

FACTORY-DIRECT PRICE: Only $199.99!
Please add $18.99 for shipping, handling & insurance for each Dash-Flash® LED Road Flare Kit ordered
(Continental U.S. Only. Canadian Customers, you will be billed an additional $13.00 to cover the extra cost of International Priority Shipping)
To ensure your light arrives undamaged, insurance is included.
For shipping discount on quantity orders, e-mail me with the quantity desired and the destination zipcode.
CLICK HERE TO ORDER: