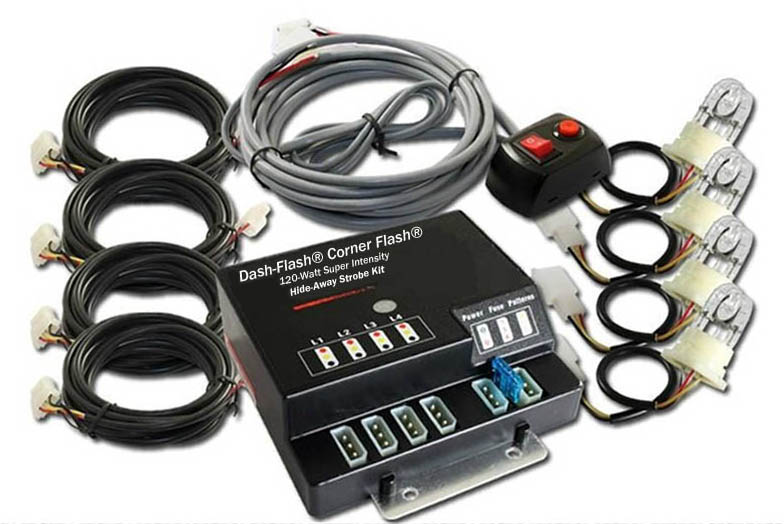 DASH-FLASH® CORNER FLASH™ 120-WATT HIDE-AWAY CORNER STROBE KIT
FOR POLICE / FIREFIGHTERS / EMS / TOW / SNOW PLOW / ETC

The ORIGINAL Dash-Flash® Corner Flash™ Hide-Away Corner Strobe Kit is a 120-watt modular kit containing everything you need to put bright, attention demanding, corner strobes on your vehicle
FEATURES:
Super-bright "M" clear strobe tubes (brighter than "U" tubes)
On/Off Switch with indicator light and pattern switch
Easy to install modular kit
Comes complete with all necessary strobe tubes, cables, power supply, and control panel.
Six selectable flash patterns
9' of modular cable to each front strobe tube
16' of modular cable to each rear strobe tube
9' of cable from control box to switch
Powered by 12V / 120-watt built-in strobe power supply
Dimensions (Control Head): 5.5" L x 4.5" W x 1.75" D


COMPARE: M-shaped strobe tubes are the brightest tubes you can buy at ANY price!

We're often asked since all of our other products use LEDs, why don't we sell LED hideaway lights. The answer is because our technicians have tested and compared the hideaway LEDs to our Corner Flash™ Strobe Kit and the strobes are several times brighter. Also, notice that, unlike our competitors which have all 9' cables, the Corner Flash™ Kits include two 16' cables for the rear strobes. 9' cables simply won't reach the rear corners of many trucks and SUVs.



I am a full-time police detective, a former K-9 officer and volunteer firefighter.
I use these corner strobes on my own unmarked car.





***********************************************************************************


What our customers say:


"Quality is sensational, functionality even better, fast delivery. 5 Star service"

"I am very happy with my item. Very fast shipping, would recommend this seller"



"Fast shipping and a great product works and looks great."

"Light is absolutely great. Makes a real difference to my fire vehicle. AAA++++"
| | |
| --- | --- |
| "AWESOME. Bigger and better than expected! Fast Shipping, great seller indeed!!!!" | |




"I just installed the strobe lights this evening. WOW!!! ... I think NASA will be able to spot me from the moon with these lights on!"
Ryan F., Firefighter, New Mexico.




***********************************************************************************





The strobe tubes require a one inch hole be drilled in the head and tail light housings. If you need a one inch hole saw, click Here



Retail Price: $179.99
FACTORY-DIRECT PRICE: Only $109.99!

Compare on the web at $249.95




Please add $14.99 for shipping, handling & insurance for each Dash-Flash® Corner Flash™ Hide-Away Strobe Kit ordered
(Continental U.S. Only. Canadian Customers, you will be billed an additional $13.00 to cover the extra cost of International Priority Shipping)
To ensure your light arrives undamaged, insurance is included.
For shipping discount on quantity orders, e-mail me with the quantity desired and the destination zipcode.




TO ORDER: