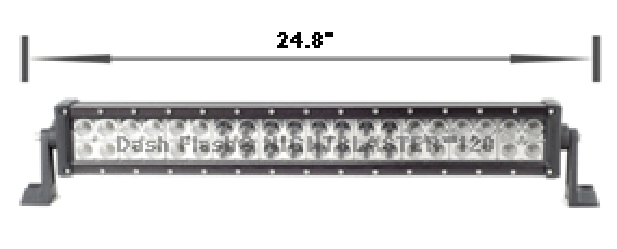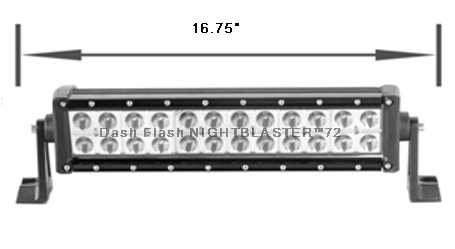 NIGHTBLASTER® 120 NIGHTBLASTER® 72
DASH-FLASH® NIGHTBLASTER!® LED COMBO SPOTLIGHT/ FLOODLIGHT
FOR OFF-ROAD / FIREFIGHTERS / SNOW PLOW / EMS / TOW / CONSTRUCTION / Etc.
With Cree®'s SC³ Technology™ Platform the XB-D LEDs in the NIGHTBLASTER® can deliver up to 309 lumens @ 3 W, 85°C.
That means the NIGHTBLASTER® 120, with forty Cree® LEDS, offers up to 12,360 raw nightblasting lumens
The NIGHTBLASTER® 72, with 24 Cree® LEDs, offers up to 7,416 lumens! They are shock proof, dust proof and waterproof.


FEATURES:
(40) or (24) 3-Watt high intensity USA-made CREE® LEDs
Beam: Combination 8-degree Spot / 90-degree flood
Color Temperature 6000K White Light
BLINDING BRIGHT up to 12,360 raw Lumens 90 degrees wide
10 amps at 12 volts DC (NIGHTBLASTER® 120)
All metal, aluminum housing with heatsink fins on back
Shatter-proof Polycarbonate Lens with Dustproof/Waterproof rating of IP67
Minimum lifetime: 50,000 hours
RoHS Compliant
Includes all necessary mounting hardware, and even an allen wrench
Nightblaster® 120 = 22" in length (24.8 to ends of brackets) x 3 1/2" deep
Nightblaster® 72 = 14.25" in length (16.75 to ends of brackets) x 3 1/2" deep
Installed height = 5" to top of housing
TWO YEAR Limited Warranty!
Compare to the Epic Lights 20" Pro20-9600™ at $499.99!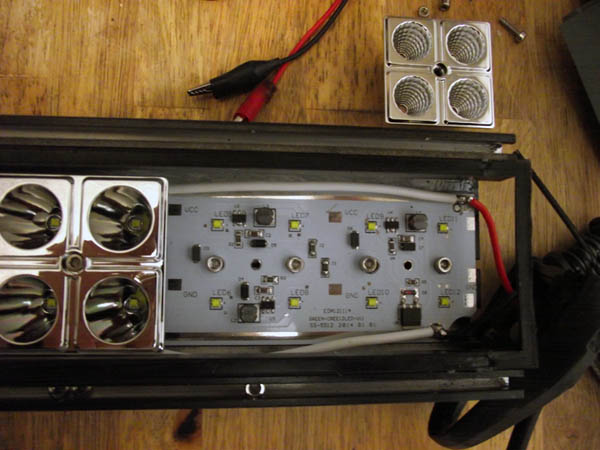 Compare the Nighblaster® circuit board's Cree® XB-D LEDS, thick solder joints, and
heavy circuit board that are engineered to make it shock and vibration proof.


SUGGESTED APPLICATIONS:

Alley Lights
Take-down lights
Firefighter/EMT/Ambulance scene illumination
Off-road vehicle driving lights
Snow plows
Construction vehicles
Excavation equipment
Tow trucks
Forklifts
Boats
Mount two NIGHTBLASTER® 72s on front bumper and attach to wig-wag flasher
for the most attention-getting wig-wags on the road!
Use with 115V power supply and mount on tripod for scene/construction site illumination
Uses for NIGHTBLASTER® LED lights are unlimted!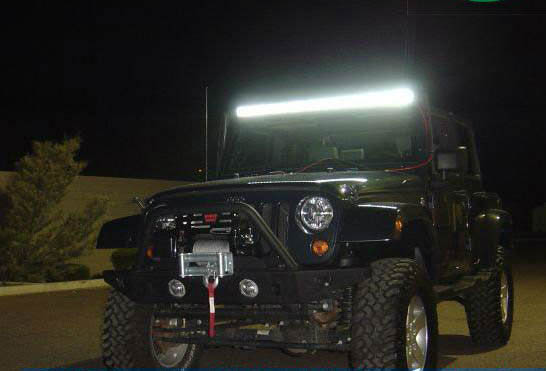 Jeep with two NIGHTBLASTER!® Light Bars
120-Watt, 40 LED NIGHTBLASTER® 120 Retail Price: $499.95
FACTORY-DIRECT PRICE: Only $229.95!
*******************************************************
72-Watt, 24 LED NIGHTBLASTER® 72 Retail Price $299.95
FACTORY DIRECT PRICE: Only $149.95!

Please add $20.99 for shipping, handling & insurance for the first Dash-Flash® NIGHTBLASTER® 72 LED Light Bar ordered ($22.95 for Nightblaster® 120)
(Continental U.S. Only. Canadian Customers Will Be Billed an Additional $15.50 for International Priority Shipping)
To ensure your light arrives undamaged, insurance is included.
For shipping discount on quantity orders, e-mail us with the quantity desired and the destination zipcode.